Static Stream Overlays
Looking for a budget friendly option? Check out our Static Stream Overlays and instantly upgrade your stream with OBS stream overlays, alerts, webcam boxes, Twitch panels and more with one click setup for OBS, Streamlabs and StreamElements.
What Stream Overlays are Included?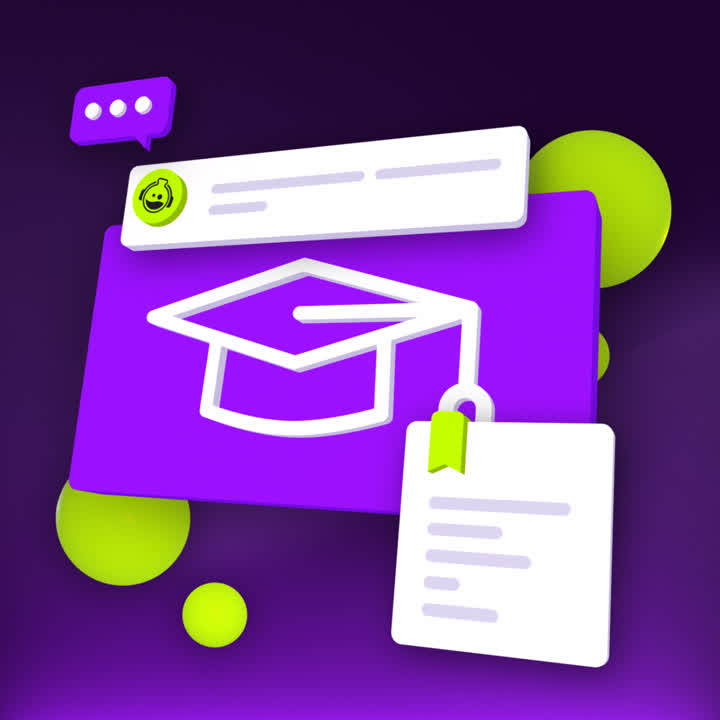 Tips and tricks
Stream Overlays Tutorials
Are you having a tough time setting up your stream overlays and alerts? Need some help to improve your OBS, Streamlabs or StreamElements game? Don't worry, we've got your back with tutorials that include some cool tricks for OBS overlays, Streamlabs, and more! Let's work together to take your stream up a level!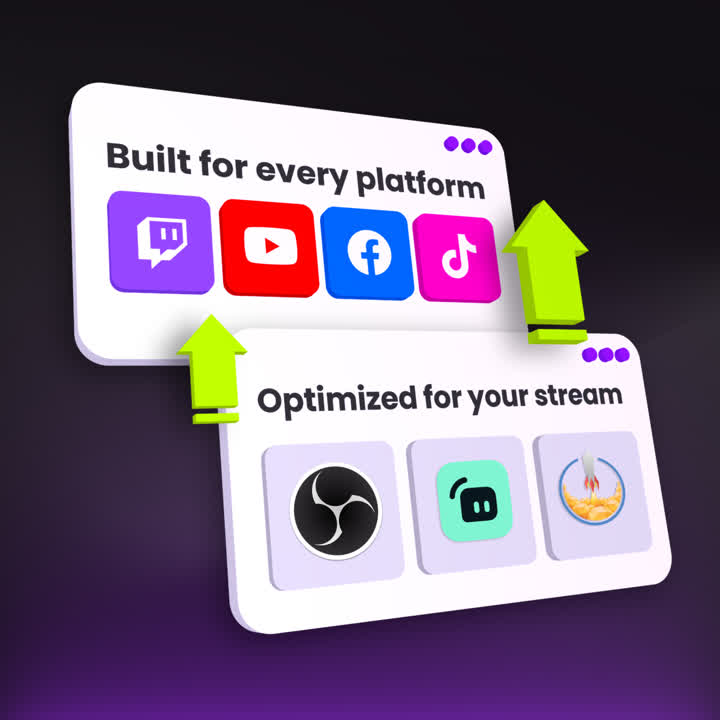 Compatibility
Optimized Stream Overlays
Our stream overlays have been optimized for OBS Studio, Streamelements, and Streamlabs, and are compatible with all streaming platforms including Twitch, YouTube, Tiktok, Kick and Facebook Gaming. With easy to follow guides and one-click setup, you can focus on your strengths - streaming and creating.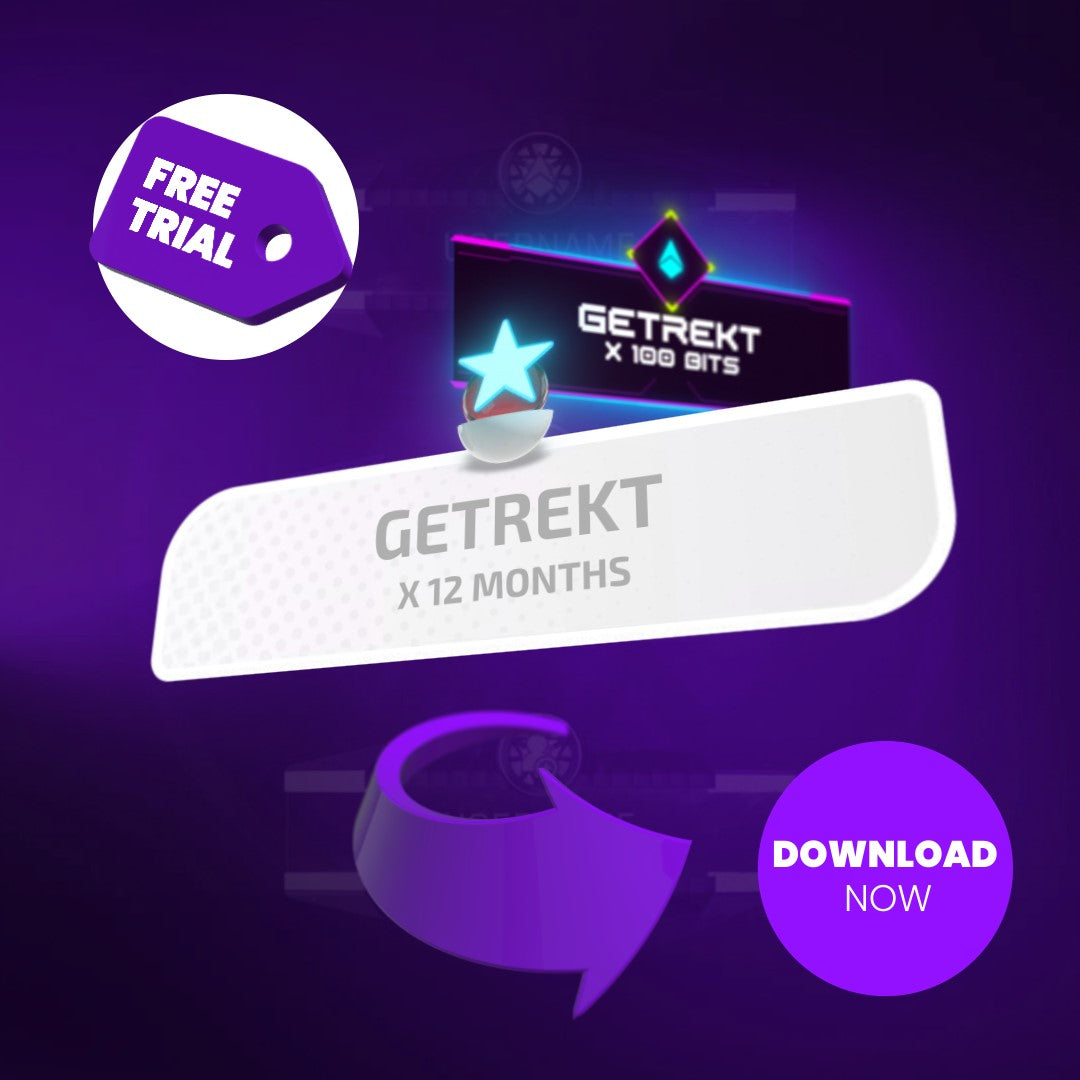 FREE TRIAL
Free Stream Overlays
New to GETREKT? Download one of our free stream overlays and get started in minutes with alerts compatible with Streamlabs, StreamElements and OBS with easy one-click setup. Ready to upgrade your full stream production? Check out over 500 Twitch and stream overlays on the GETREKT Elements store.
Frequently Asked Questions
What platforms are supported for my new stream overlays?

GETREKT stream overlays are optimized for all major streaming platforms including Twitch, YouTube, Facebook gaming, Tiktok and Kick, with easy one-click setup for OBS Studio, Streamlabs and StreamElements.
How can I download my new stream overlays?

Your stream overlays download link will be emailed directly to your inbox so you can get them set up in OBS Studio, Streamlabs or StreamElements instantly . In addition you'll always be able to access your download link via the "My Account" area. Just login and find your order.
How do I create a GETREKT stream overlays account?

Create an account from the menu bar to get access to your order history, stream overlays downloads, custom project progress and get exclusive news to the latest stream overlays with new releases every month.
I'm having trouble setting up my stream overlays, what can I do?

Check out our full stream overlays setup guide on our Resources page which will give you step by step instructions on how to get started. Still having issues? Join theGETREKT Elements Discordand we'll be happy to help (you can also find us on Twitter, Instagram, TikTok and Facebook). Click the links at the bottom of the page to access our socials and join our Discord).
How can I pay for my stream overlays?

We accept all major credit cards including American Express, Visa and Mastercard plus Paypal, Google Pay and Apple pay so you can pay for your stream overlays with flexibility and confidence.
Need support with your Stream Overlays?
If you can't find what you're looking for from our FAQs and resource page you can contact us directly about your stream overlays. Jump into the GETREKT Elements Discord and we'll be happy to work with you to get you set up in OBS Studio, Streamlabs and StreamElements.
Contact Us About Your Stream Overlays
Click the link below to fill out a contact form and we'll do our best to be back in touch as soon as we can about any questions you might have about our stream overlays and setup for OBS Studio, Streamlabs and StreamElements.
Contact Us
Join Us On Discord
Join our Discord and meet hundreds of creators from the GETREKT community! We also have support channels available should you need technical assistance with your stream overlays or information about our upcoming events.
Join Discord