Platform wars: Who is the future of live streaming content?
Platform Showdown
Which platform has your vote as the future holder of live stream content?
YouTube, Facebook Gaming, Twitch or TikTok? Let's review.
The Results
We asked across multiple platforms for you to participate in our Twitter poll.
And the results are in!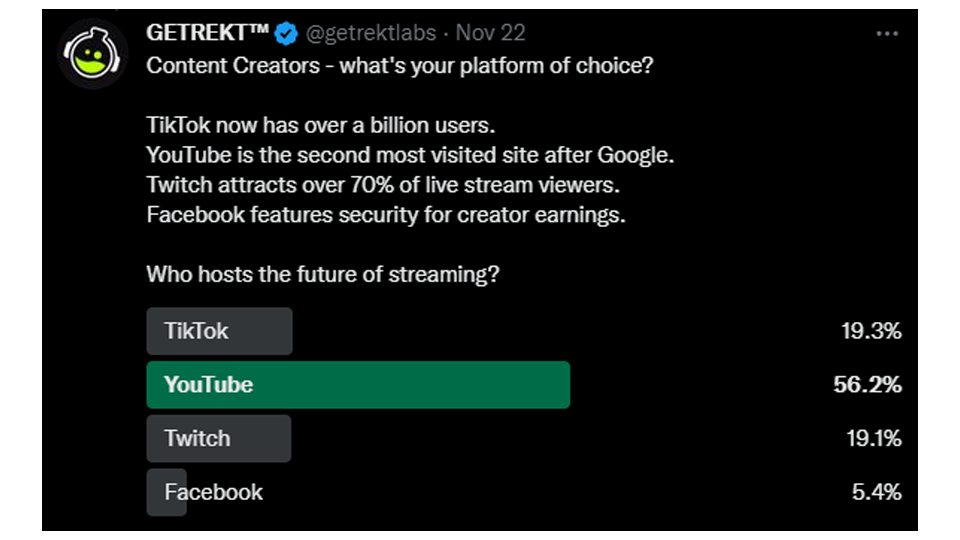 The winner, by a landside, was video hosting mogal - YouTube.
We're going to discuss the pros and cons of all streaming platforms included in the voting, and how to choose the one that fits you.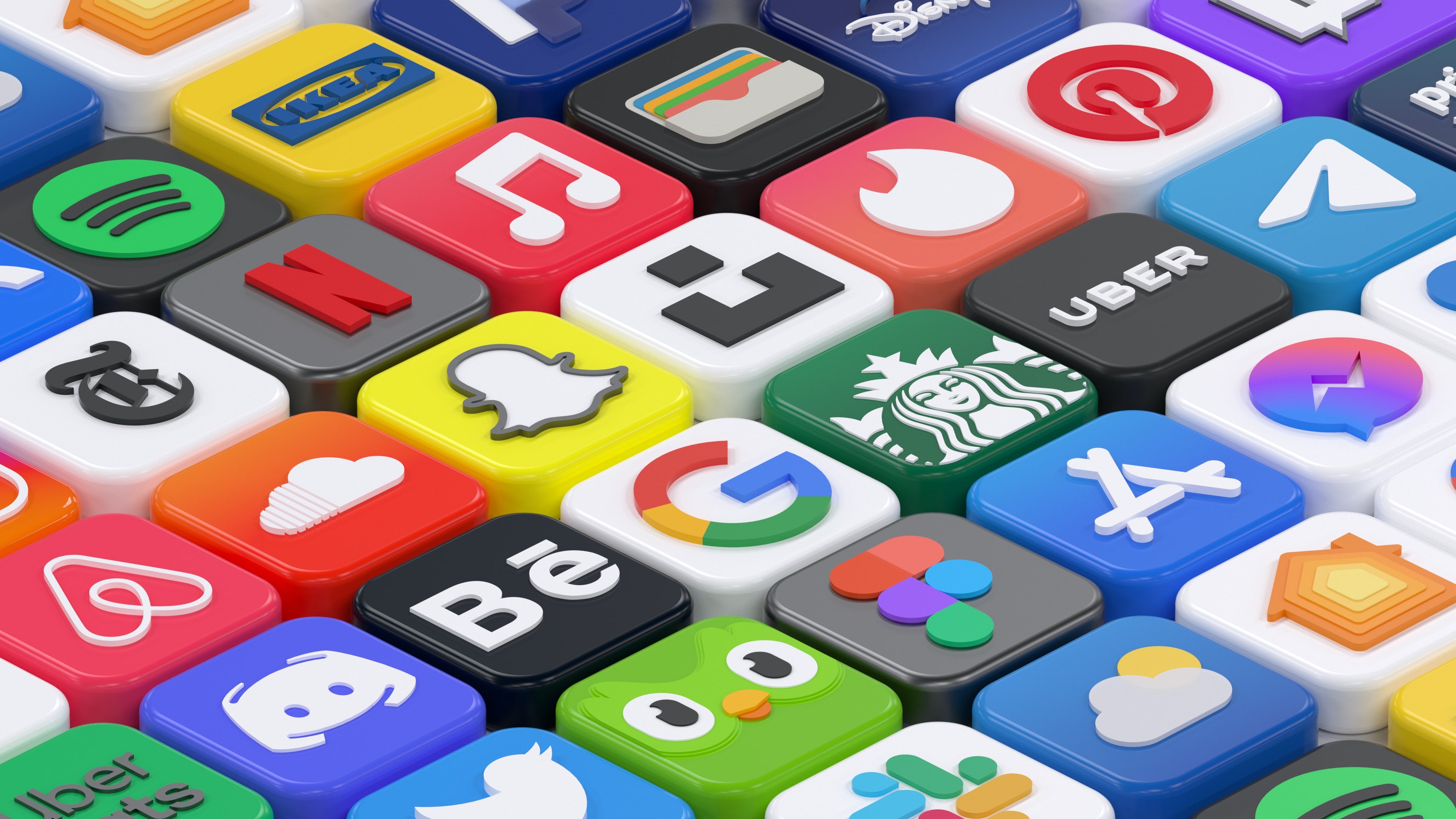 Choosing the right platform
The first question we need to think about is - why is choosing the right platform for you so important?
As a creator, picking the right place to host your content is paramount. You will be spending countless hours of your time and investment into a platform, and the community that comes with it.
The type of people that will be using a streaming or content platform will play into how well your type of content does on a whole, as well as how far it can grow with you.
You need to think about:
• Demographic
• Age ranges
• Traffic
• Saturation
• Type of content
• Platform features
• Restrictions
• Usability
These items are very important to research prior to picking a platform that works for your content. As a a creator, these will hallmark who your audience are, what they are looking for, and how this will work for you.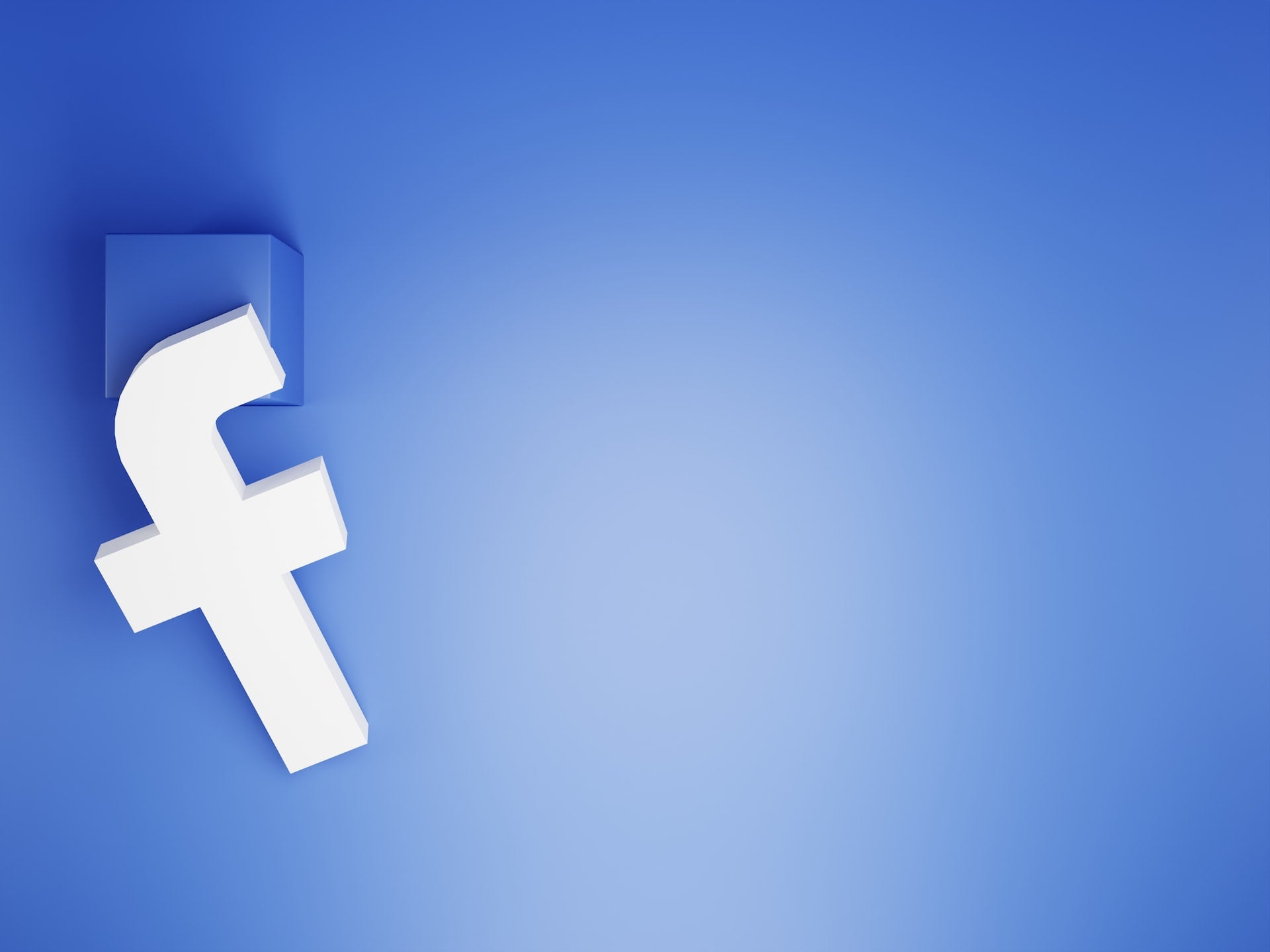 Facebook Gaming
Facebook Gaming, the live streaming gaming platform that runs parallel to the social media giant's main platform, has grown massively since its launch. In November of 2022, it's watched hours rose by 21% equalling 617 million hours watched with 124 million viewership.
For those of you that stream FPS and mobile games, this is the platform that specialises in both with both separate and blended categories holding fast in the top 10 most watched. PUBG Mobile is currently holding 1st place with over 80 million hours watched. Whereas the most watched category on Twitch is Just Chatting, on FBgg their version "Hanging Out" only holds 10% of the viewership that the top FPS games do.
Many creators have found that Facebook Gaming is quicker and simpler to grow their audience on due to less saturation, as well as the ease to promote their content due to Meta's domination of the social market. Creators are able to post their content on any page or timeline that allows, and their viewers can easily share this through their own pages, creating strong organic growth and visibility for their favourite streamers. However, Facebook's algorithm means that the actual LIVE NOW post can take some time to notify your viewers that you are streaming, and it is recommended to utilise other social media platforms to share you're live status.
Now let's talk about the money! Many will create content for the love of the craft, but for a large percentage the goal is to attain a career. The first point we should cover is - make sure you are eligible to earn in the country you reside in.
Once you've established you're good to go and you have hit the markers to join the Level Up Program, there's a few ways to start earning! Facebook Gaming is known for its security when it comes to creator earnings, with many of the options allowing streamers to have a sense of a monthly pay check. Level Up will open monthly subscriptions of $4.99 to your viewers, as well as the opportunity to earn stars and have in stream advertisements. As well as this, Facebook has its own in app currency and purchases whereby creators will get up to 100% of the value straight into their pocket - and you can also earn from donations. Payments have a minimum value, for example 10,000 stars must be given before they can be redeemed, and the money will be received 30 days after month end.
A couple of extra notes - Facebook has their own Creator Suite and supports OBS, XSplit, Streamlabs and Stream Elements. As well as this, as part of the Level Up program you have a range of additional technology-based benefits and on hand support from the Facebook team.
Finally, unlike Twitch and YouTube, Facebook Gaming does not have a dedicated app - this was removed in August 2022.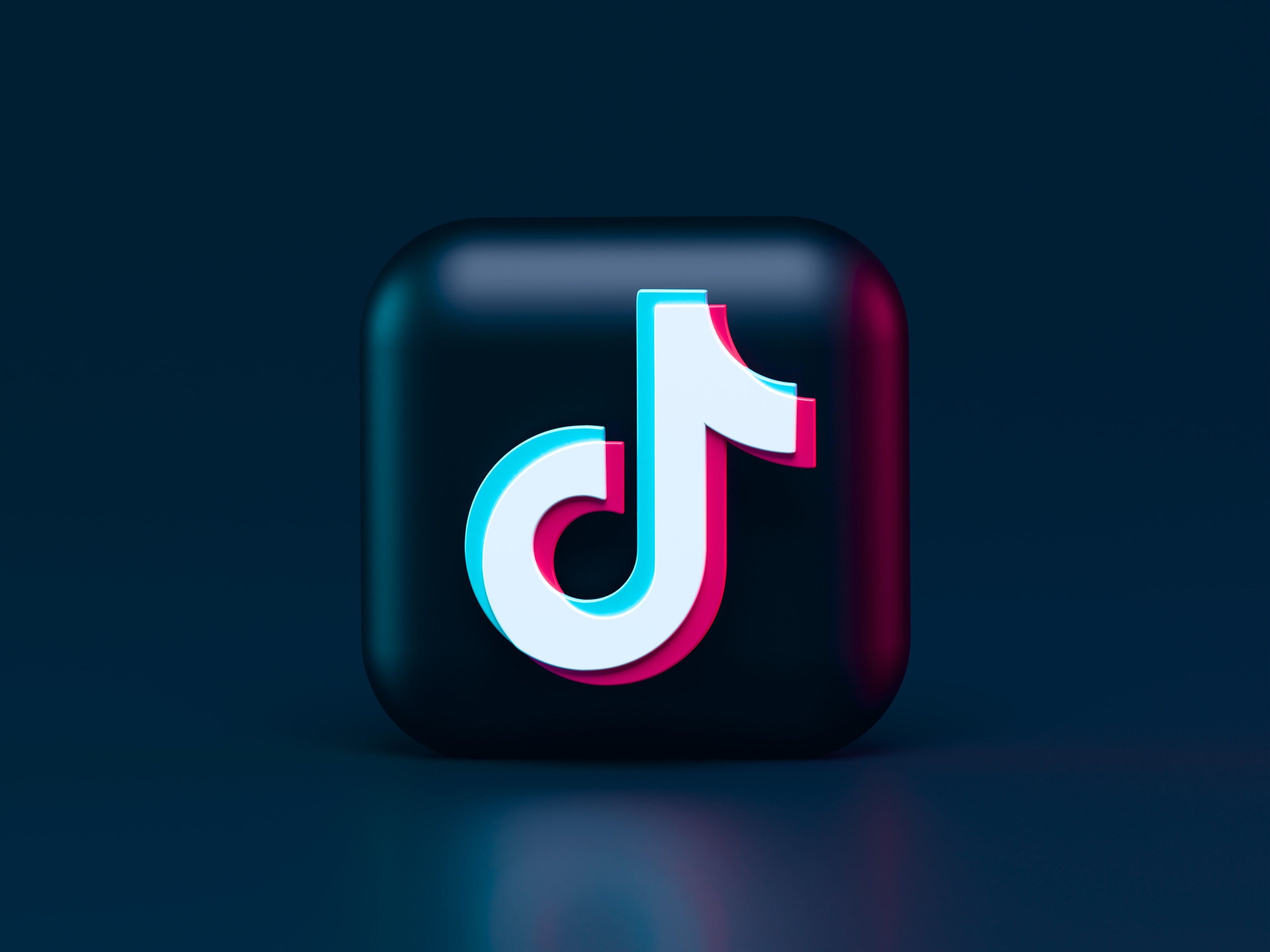 TikTok Live
TikTok is the fastest growing social media platform in years, amassing over 1 billion users in just a couple of years, and being the most downloaded app of 2021.
The key thing to note about TikTok is it is considered the Gen Z of platforms, with the largest percentage of users being in the 10 - 29 years category. Entertainment is the most popular genre on the app, having 300 million views more than the next highest category.
Gaming on TikTok is a relatively new option for content creators, and it still remains limited to invited guests only. That's right - through StreamLabs you can be invited to stream your gaming content directly from your PC, using their platform with your TikTok sign in. It is only available to a select few at the moment, but StreamLabs have written that this feature will open to more users in the near future.
At the moment, to go LIVE on TikTok you need a minimum of a thousand followers - however we have seen workarounds for this. To go LIVE, you simply head to your Creator Studio on TikTok and check that everything aligns and presents the way you want it to, and then head to the usual POST section. Swipe over, choose your title and image, and go LIVE. Once you are LIVE, you can use the 3 little dots on the side to edit any features. This kind of live streaming is limited to your phone or tablet camera.
Whilst live streaming gaming from TikTok is not currently something everyone can do; it is good to set the tone of your content whilst you wait for this to open up to the general public. One option, aside from creating and posting videos, is using TikTok LIVE to promote your stream and commit your "Just Chatting" portion at the start of the stream to also be shown on TikTok (whilst also following the T&Cs of your chosen platforms). Once you begin to wrap up this portion of your content, you can direct your viewers to your stream platform.
However - Some streamers get incredibly creative gaming using the go LIVE function, as can be seen below.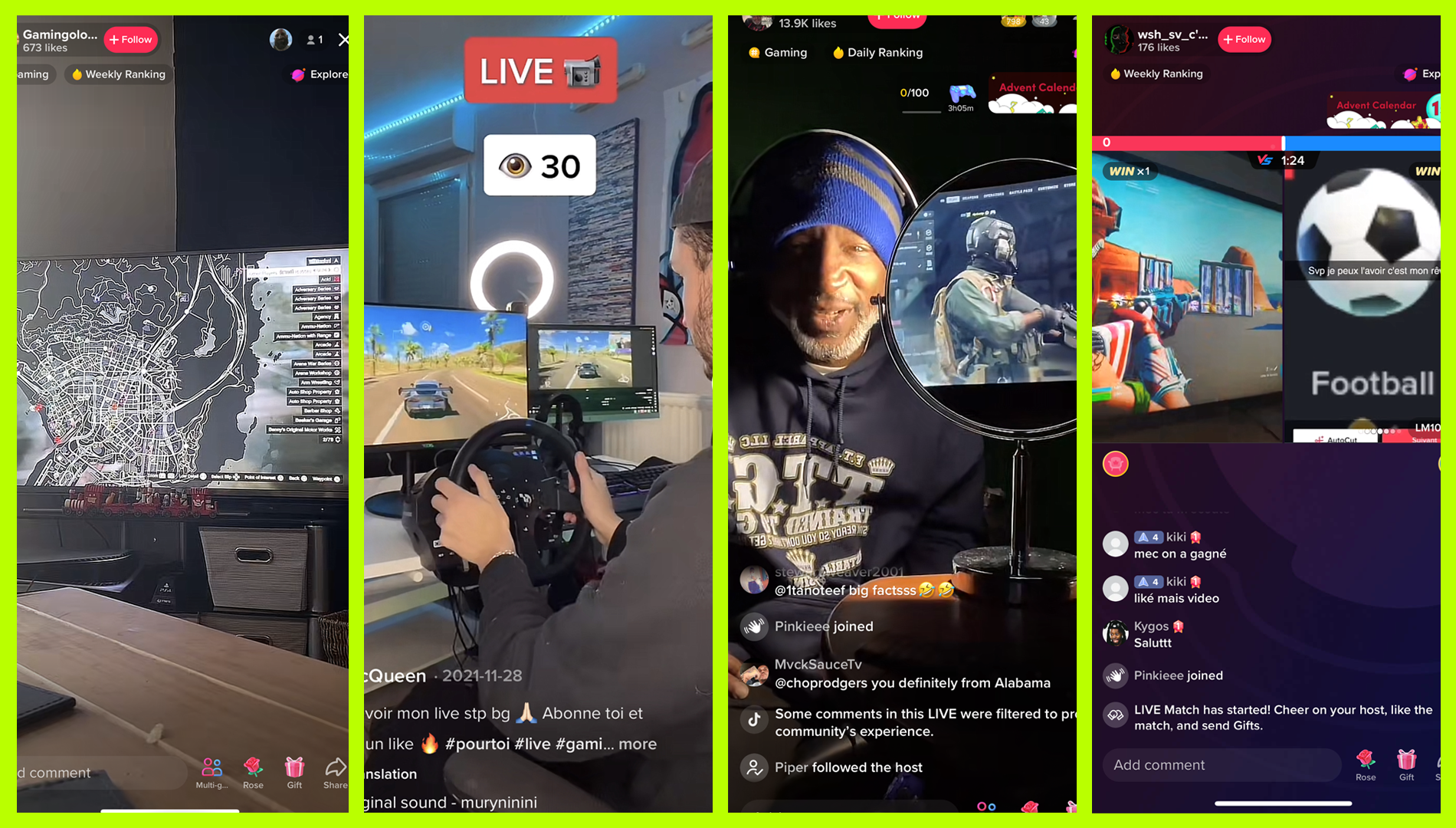 TikTok users choose some creative ways to stream their live content gaming on the platform, including utilising some interesting props and angles to show their stream.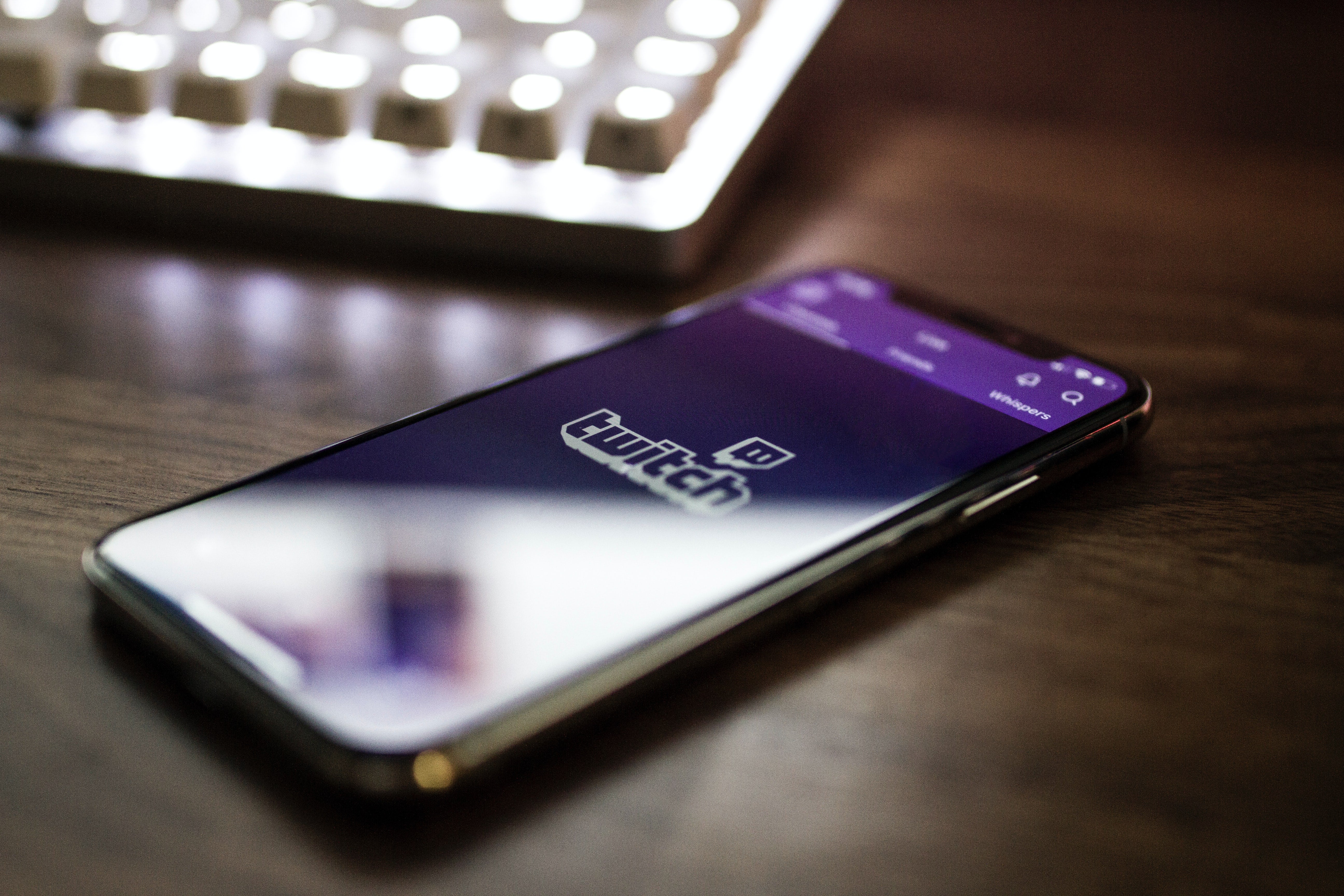 Twitch
The mogul. The lion share of the market. That is Twitch. With the biggest number of viewers and streamers collectively in one place, Twitch is the most popular choice. In 2022, 76% of live streaming hours watched were viewed on Twitch - compared to YouTube Live at 14% and FBgg at 10%.
But whether you view that as opportunity or saturation in totally your
decision!
Twitch's integration means that it works with all major streaming software brands, and you can easily stream from a PC or a console. It takes very little to start yourself off as a streamer on the platform - simply make an account and press GO LIVE. Twitch also offers the similar set-up as other platforms- categories to organise your content, picking an eye-catching title, a robust
creator studio, the ability to clip live content for later uploads, and more.
The actual coding behind Twitch means that in general, it is a nicer
experience for viewers because the browser is built for purpose - watching and streaming gaming live content. This is different to the other providers because historically their main use for those sites has been removed from Twitch's goal.
In terms of flexibility of content, Twitch currently holds the top spot. Many of the other platforms have some very regimented rulings that were decided in mind of their original purpose - social or video production. As live content can be much more difficult to moderate, Twitch's T&Cs are a bit more relaxed but must still be followed if you don't want to be hit with that ban hammer.
Compared to some of the other platforms, getting noticed on Twitch can be slightly more difficult. The algorithm is reported to favour those with higher viewership and the over saturation of categories can mean that you can end up lost in the crowd. If you do manage to remain consistent, you may be invited to the Affiliate or Partner program. This sets Twitch apart from the others because of how early on you can monetise your content.
We mentioned this briefly before but the tools for reviewing your content on Twitch are head and shoulders above the rest. You can use your Creator Dashboard to view all of your statistics from your streams, set yourself goals, and aim for where you want to be. On top of that, you can use sites such as SullyGnome to review statistics across Twitch as a whole.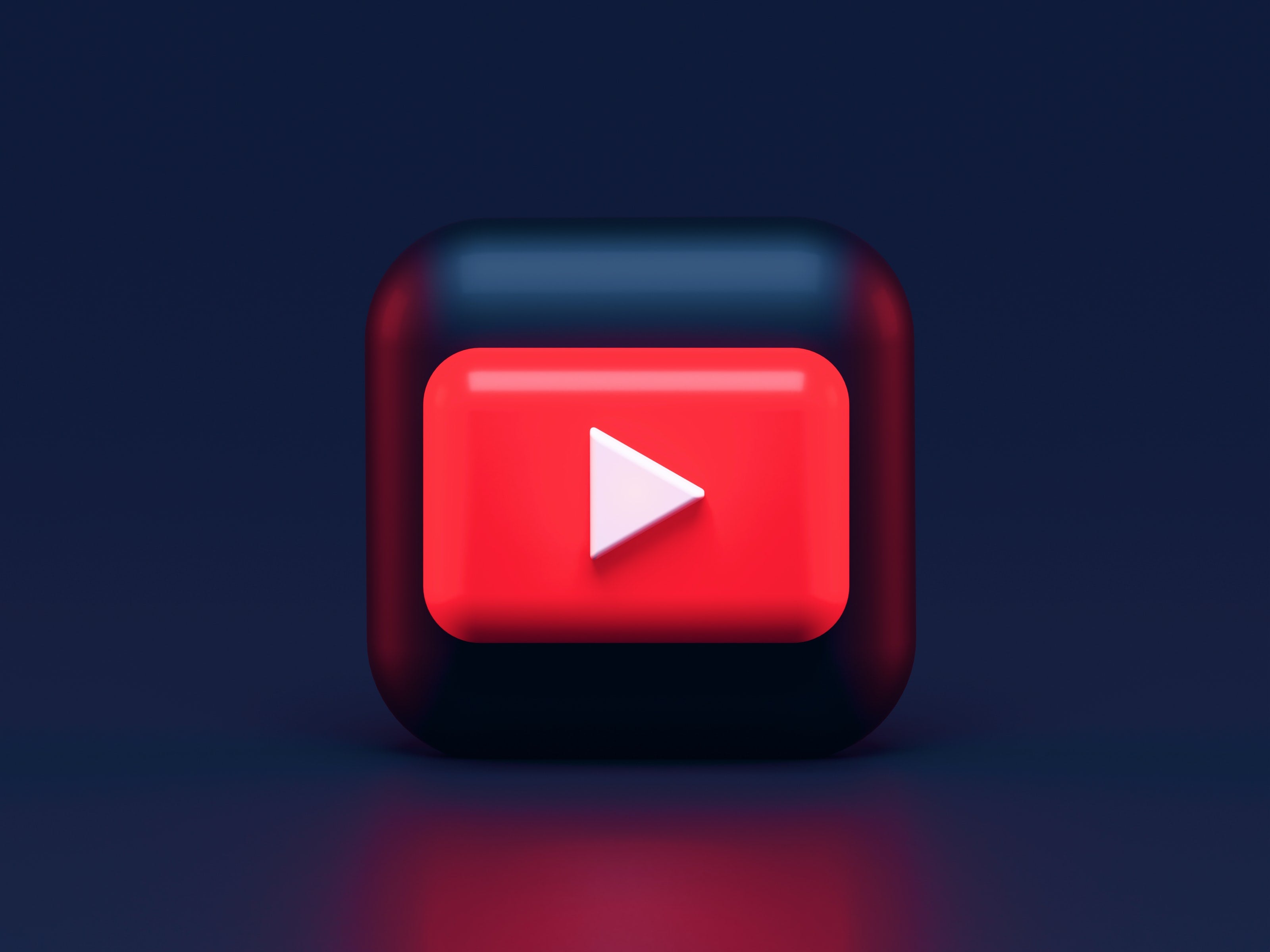 YouTube
Now we all know that YouTube, in terms of video watching, is the highest watched platform on the internet. 5 billion videos, 1 billion hours PER DAY of video content watched. Astonishingly, each visitor spends around 19 minutes of their lives each day watching YouTube content. 50 billion minutes of gaming content were watched on YouTube in the last 12 months. However - it's LIVE counterpart still comes second fiddle to some of the other platforms.
A huge plus if you are starting from fresh, YouTube is the platform you are most likely going to be seen on. It's algorithm favours those with smaller channels as long as you are relevant to the users watch list. And because YouTube is the biggest video platform, your content is evergreen. Upload the videos to your channel and you can actually take a day off! This content will be loved just as much as your live streams by your viewers as YouTube users tend to expect pre-recorded content due to the nature of the platform.
In terms of pay security, YouTube limits the amount of monetisation offers you can get before being partnered as a live stream creator, but the percentage of ad revenue is much higher than other platforms, and allows for a greater variation of pay types such as Super Chat and Super Stickers.
A downside of YouTube - The great DCMA we experienced in recent years shows that you have to be careful with your content, and as many creators on YouTube already know, there are some very strict guidelines for content on YouTube. Keep this in mind when deciding your platform, as this can make or break a channel. Unlike Twitch, there is at least some leniency as it's a strike based system rather than a straight up ban.
An honourable mention - Thumbnails. Ever been caught with an unfortunate expression that is now immortalised on the cover of your latest stream on Twitch? Well, on YouTube you can pick your thumbnail.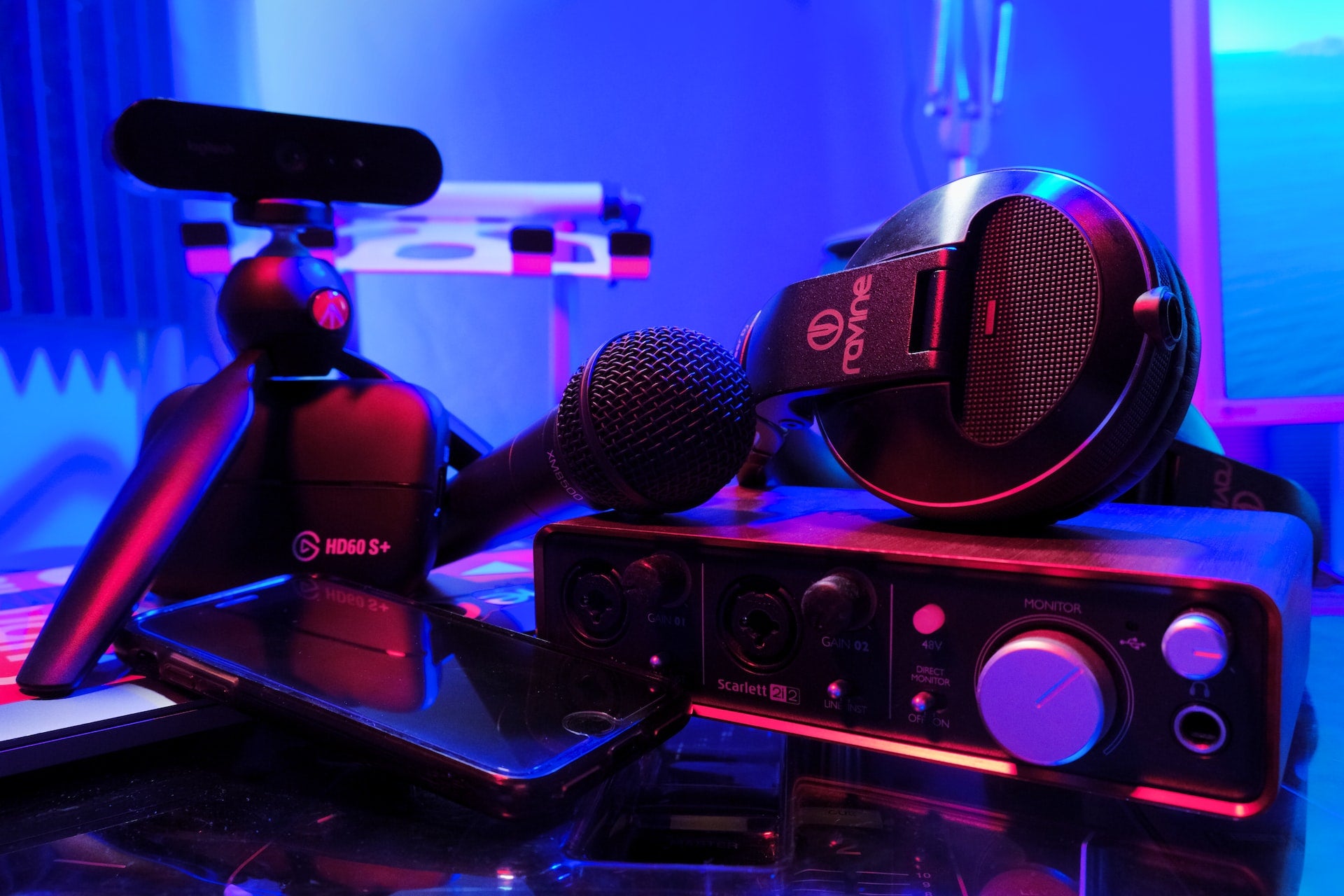 TLDR;
So we've gone over some pros and cons of each platform, looking at several different aspects of each part as a live streamer. In terms of market share, Twitch is the winner. However the security of Facebook Gaming may appeal to some, especially those in the FPS and Mobile gaming communities. TikTok being the fastest growing, could be a huge opportunity for those looking to get in whilst their Live Stream side is still developing. And for those who would like to split between LIVE and video content, YouTube would be an obvious choice.
Each has many good reasons to be named the future of live stream content, but what it comes down to is your goals. It is very unlikely that any of these platforms are going anywhere, and our advice would be choose what is right for you and keep current with all platforms so not to pigeon hole yourself (where terms and perms allow).
We will be discussing this more over on our TikTok channel, which will include Top Tips for the platforms, for streaming, educational content, technical content, and more. So be sure to drop us a follow - @GETREKTLabs.
See you starside Guardians,
Em
Looking for your Wishlist?
You must have an account and be signed in to access your wishlist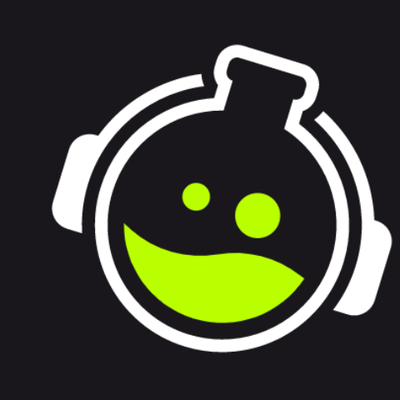 Don't worry you can continue shopping without creating an account, but you won't be able to save items to your wishlist