GET IN TOUCH
Ready to start your custom stream design journey with us? Take 2 minutes to submit an enquiry below and we'll reach out to you as soon as possible to discuss your requirements.
CONSULTATION
Not sure where to start with your custom project? Book a free call with our expert stream design team and we'll work with you to improve your production value and revenue streams.
Score More with Xbox

Zerkaa

Darkness429

Lolipopgi

Datto

Zlaner

Gladd

JUSTJORDANSART

SeaPeekay

Atura

Chap

GoodGameBro

Tommey

Meg Turney

It's Iron

MzKrissy
Mr Gibbon

Jackie Butler

Rasta La Vista

Chris Denker

Mugs

Timprovision

Coffee Gaming

Rhabby V

Mark Tuan

Kingslayer

Aztecross

Cabose

Savage

Jarvenis

Parris Lily

Gizmo
GSXR Clyde

Uhmaayyze

Video Gains

Miss

UmiNoKaiju

Schildhouse

Megs

PureChill

FPS Krystal

Joverrated

Miss Kenner

Chevy

Alfredo Plays

PicNick

Obkatiekat

Dantics
CUSTOM SERVICE
Ready to start your custom design journey with us? Click Start Project below and create your unique package with our pack builder.
CONSULTATION
We understand the choice can sometimes be overwhelming. Why not book a consultation call with one of our Brand Scientists? Looking for our stores?
If you're looking for your next stream upgrades, get immediate access to hundreds of unique designs with GETREKT Elements, our premade design store. Or if you're looking for custom design head over to GETREKT Labs!
PREMADE STORE
ELEMENTS
Get immediate access to hundreds of unique stream designs with Elements, our premade store. Updated weekly.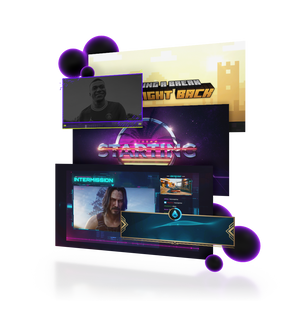 CUSTOM DESIGN
LABS
We've upgraded the streams of over 400 content creators across the Globe since 2019. Let's show them how you're different.