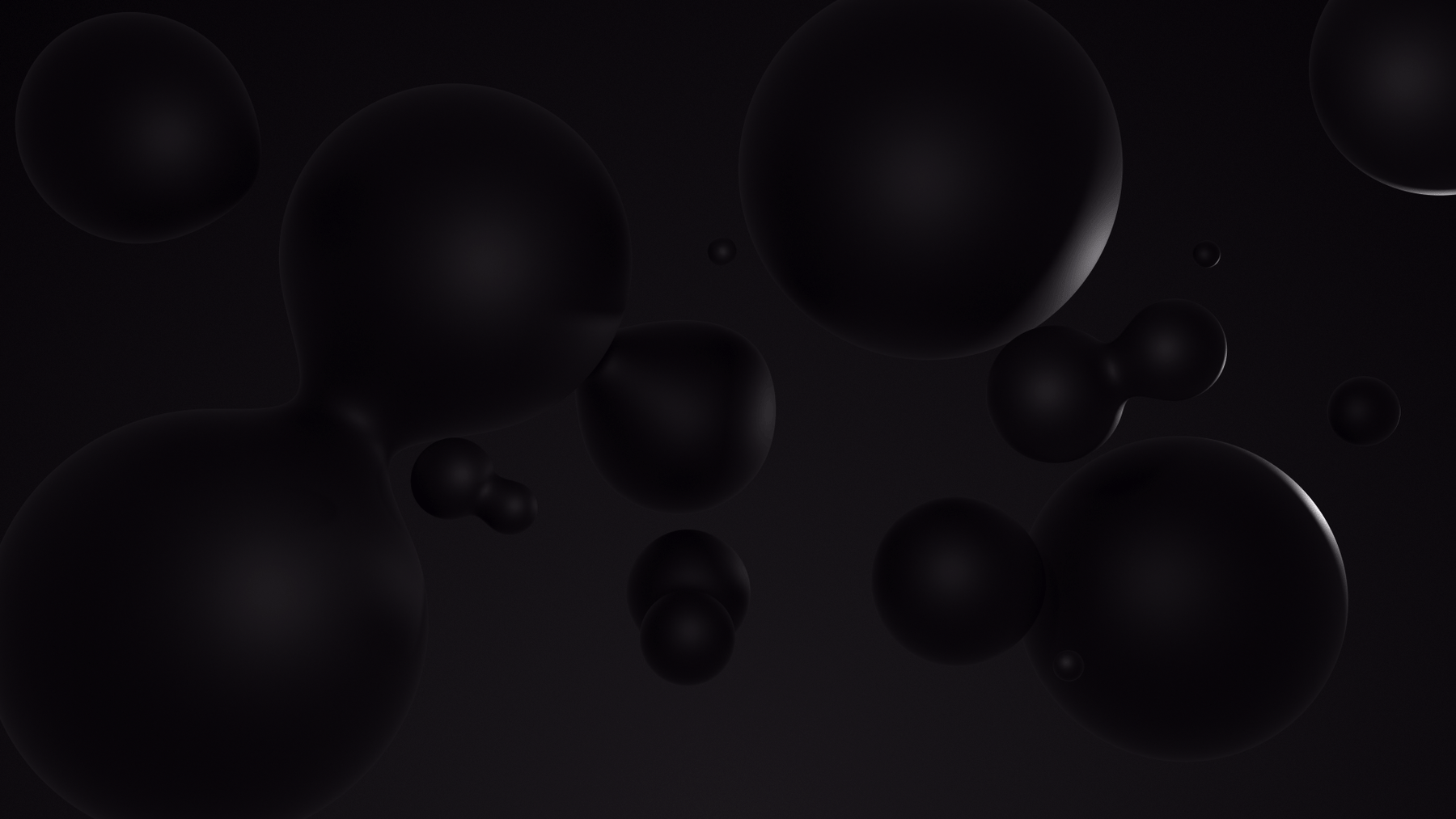 INDUSTRY LEADING STREAM OVERLAYS
Whether you're looking to upgrade your production value with premium stream overlays, or increase your stream revenue with alerts and coded integrations. GETREKT can help you create a reaction.
Esports Creative Team of the Year Finalists

GET IN TOUCH
Ready to start your custom stream overlays journey with us? Take 2 minutes to fill out our application form below and we'll reach out to you as soon as possible to discuss your requirements.
CONSULTATION
Not sure where to start with your custom stream overlays project? Book a free call with our expert stream design team and we'll work with you to improve your production value and revenue streams.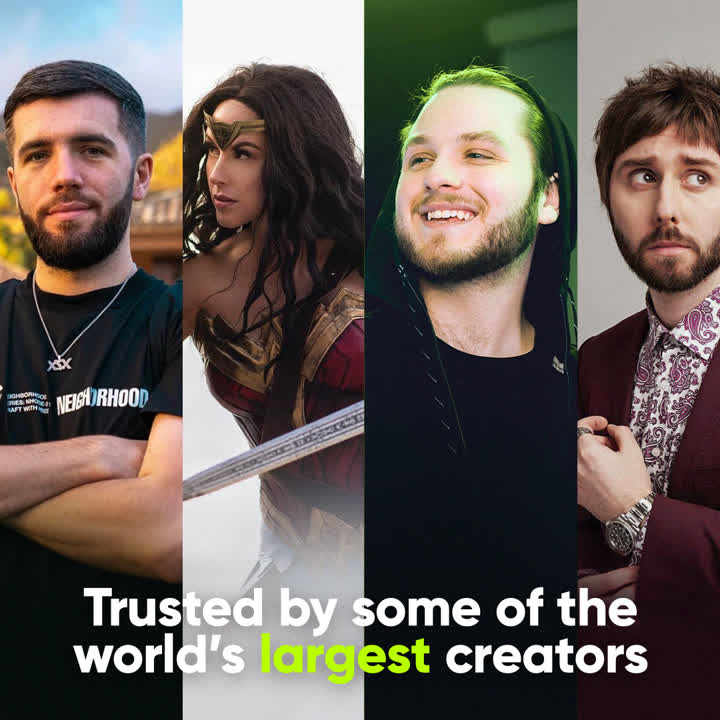 For creators
Over 500 Stream Overlays Upgraded
Since 2019 our design team have worked with over 500 content creators across the world. It's our mission to bring your ideas to life and upgrade your production value and increase your engagement and revenues. Whether its a new brand, integrated stream overlays, OBS scenes, alert systems or unique coded integrations, we haven't failed a challenge yet.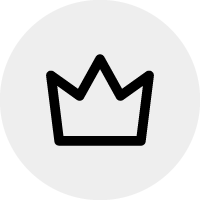 Best In Class Design Team
Our designers are the best the industry offers. Check out our portfolio to see our recent work from original brand design to 3D stream overlays.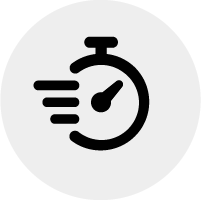 Proven Design Sprint Process
With 3 years of refinement, our sprint process has been designed to give you complete control over your stream overlays and delivery.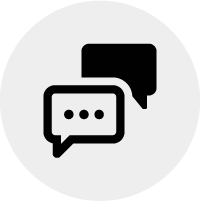 Professional Communication
Have direct contact with our stream design team throughout your project in the GETREKT Discord to give you full control over your custom stream overlays project.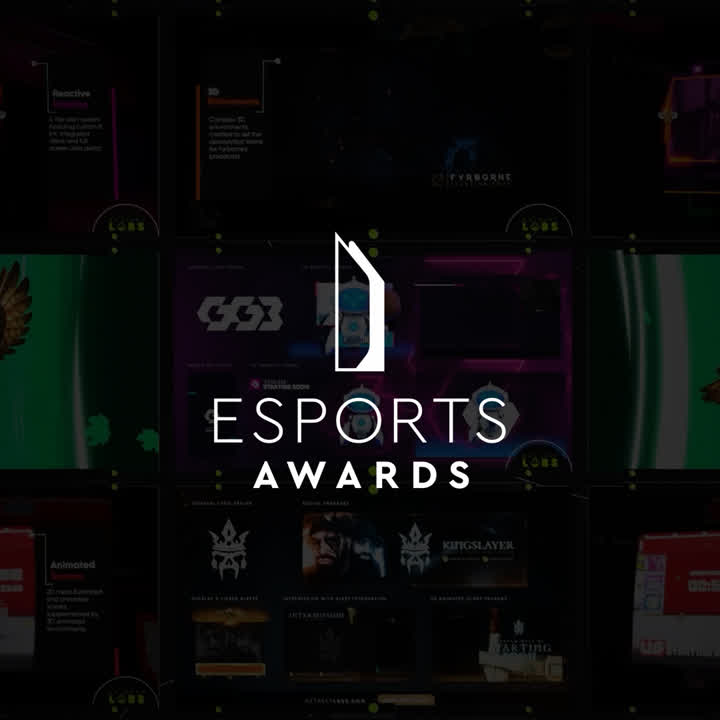 AWARD WINNING TEAM
Esports Creative Team of the Year Finalists
Our team push design boundaries every day and are the best at what they do. Find out more about the team behind our expanding portfolio and learn about our unique skill set which ranges from stream overlays and motion design to 3D environment building in Unreal Engine 5 and coded widgets for Streamlabs and StreamElements.
Our Proven Method
Over the past 3 years we've refined our process to give you complete visibility and control over your stream overlays. We pride ourselves on our professional communication and ensuring you get the best value from your resources no matter your goal.
Discover
It's our job to work with you before your project begins to explore your goals, discuss your ideas and present solutions to your stream overlays problems whether that's production value or upping your engagement.
Build
We've completed over 500 custom stream projects so we know what it takes to build your dream stream overlays. Through our design sprint process, you'll have direct and uninterrupted communication with our design team.
Deploy
The moment you've approved your stream overlays, they'll be transferred directly to your account so you won't have to worry about downloading them in the future. Our coding team will even do all of the hard setup work for you.
Stream Overlays. It's What We Do.
We work with content creators every day with a focus on innovation and pushing the limits of what's possible for your stream overlays. Don't believe us? Check out our portfolio and catch up with our latest projects where you'll see examples of our unique reactive overlays, tiered alert systems and 3D environment builds.
Every Brand Starts with a Logo
Our first job is to create a unique digital representation of you and your channel.
Whether you're looking for a clean and professional 2D design or a cinematic 3D logo our aim is to create a recognisable brand you can be proud of.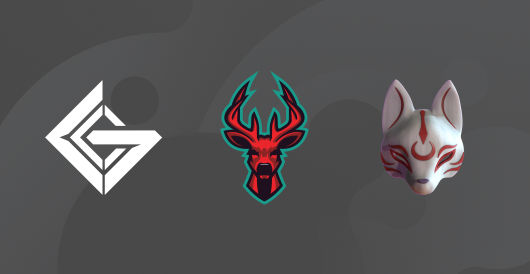 The Essentials
It's important to set a strong baseline for your stream production, and that starts with what your channel looks like when you're away from your PC.
Whether its using your offline screen to promote your schedule or clearly displayed panels to show what you're all about, let's make sure you get off to a good start.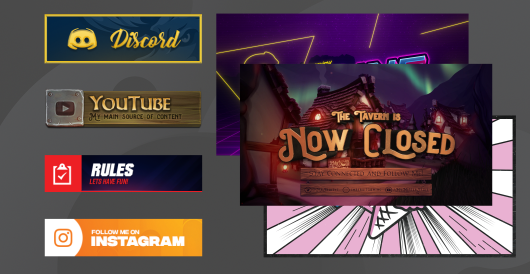 Production Value
Keeping viewers engaged can be a difficult task, but creating a coherent look across your stream with unique animations is a great way to showcase your professionalism.
Our scene packs include a Starting Soon, Be Right Back, Stream Ending and modular intermission scene to make sure all your bases are covered.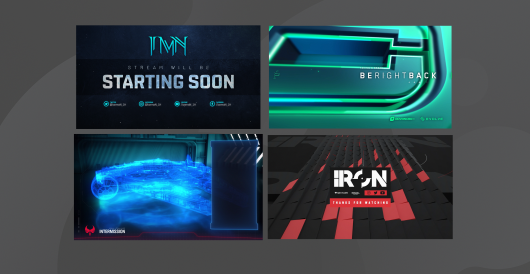 Overlays
Overlays are a huge part of your broadcast featuring whenever you're live, so it's important to get this part right.
Whether you're looking for a clean and minimal design or a more elaborate reactive overlay, we have options to suit all stream styles.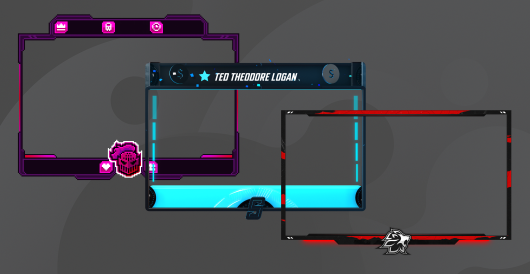 Viewer Rewards
Alerts are a great way to not only drastically improve your production value but also drive the behaviours you want from your viewers.
Whether your support comes in the form of cheers and donations, or your generous community are generous gifters, our alert packages reward every action your viewers take.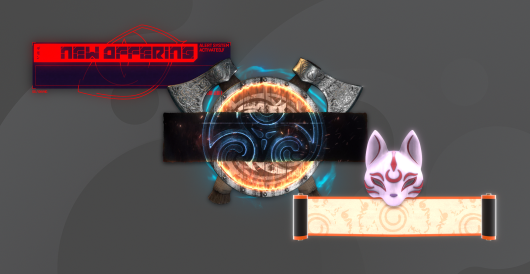 Character
Whilst it's important that you maintain a professional look on the surface, emotes and badges are a great way to have some fun with your community and give them a unique way to communicate whilst they're enjoying your content.
Whether you're creating a mascot for your channel, or celebrating the finest of memes, emotes bring colour to your chat and can really set the tone.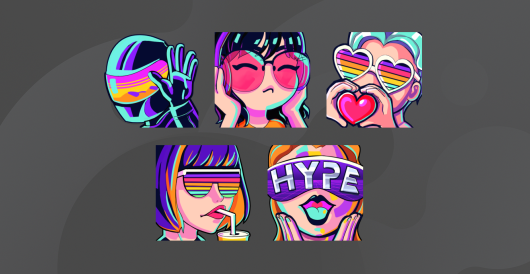 High value target
Something we preach heavily is diversifying your content. If you're creating on Twitch or Facebook Gaming, YouTube is an amazing secondary resource to get more eyes on your content.
Already focused on YouTube? A professional look can help you engage your viewers in that all important first 3 seconds and keep them inside your ecosystem.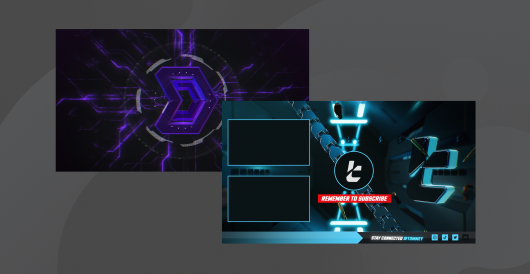 Diversify your earnings
As well as diversifying content, it's also extremely important to diversify your revenue streams and reduce the risk of relying on subs or donations.
Merchandise is a great way to start and we can help you to create your latest collection ready for your big drop!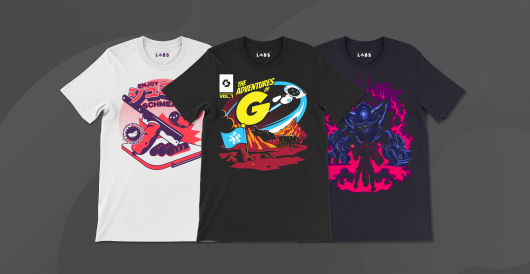 Coding and Stream setup
The biggest stress of any stream overhaul is setting everything up. Let us take care of it for you with our CSS coding and setup service and we'll handle the hard part.
Looking for a custom widget design? From sub trains to goal focused widgets we can help you drive great behaviours from your viewers and ramp up your production value with one of a kind designs and integrations.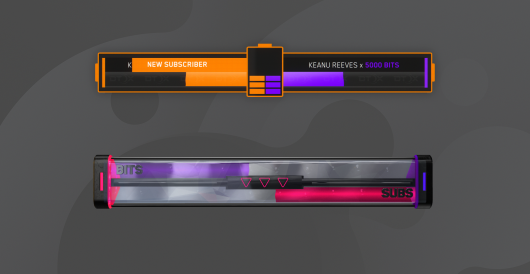 BRANDING THROUGH AUDIO
Audio branding is an important factor in creating an environment that your community wants to hang out in.
Let us create explosive alert sounds, slick transition audio and custom music that will set you apart as a rarity on your platform.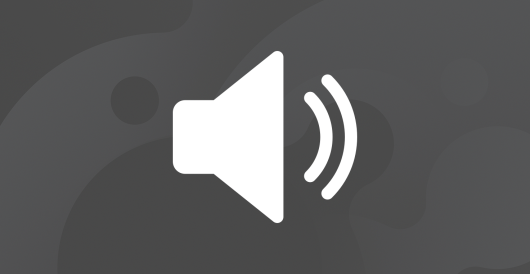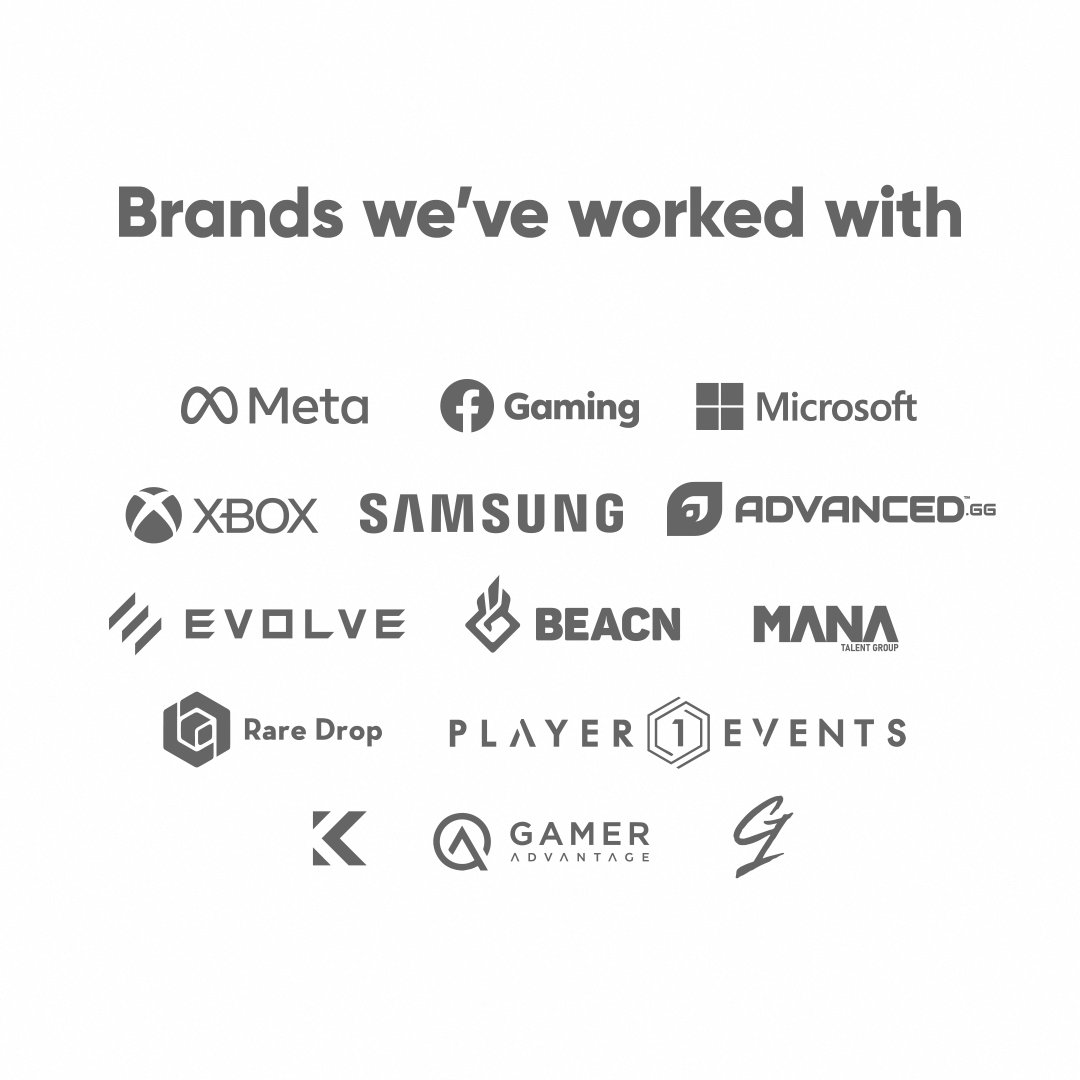 For brands
Esports and Gaming Brands
We've worked with some of the biggest esports and gaming brands in the industry including Xbox, Samsung, Kairos Media and Meta. Get in touch to find out how we can help you to achieve your live stream production and marketing goals through professional stream overlays and automated solutions.